This is my 8th year with the Carleton University Alumni Mentorship Program. I was one of the original mentors recruited back in 2014 when the initiative was launched. I am usually matched with a 3rd or 4th year undergraduate or recent graduate student, and sometimes with more than one. I am not prescriptive about the support I provide – often it is a combination of listening, organizing networking, and probably most importantly, asking questions. I aim for an appreciative inquiry approach.
After just a few minutes talking with Selina Schoeni, I knew this was going to be more like a peer-to-peer conversation. Obviously being three decades older and long ago graduated from university, we aren't peers in that sense, but rather in the sense that I knew this was going to be very reciprocal. When Selina would ask me how I was doing, I gave very honest answers, and shared some of the struggles and challenges of co-leading a social services organization during a pandemic.
Sometimes Selina came with some questions at the ready, sometimes not. That's the type of person I am too, I don't like to follow a pattern just to follow a pattern, so the comfort of dispensing with conversational performance art was fully welcomed, and probably well suited to the circumstances.
There are obvious drawbacks to being matched up during a pandemic, but I knew since I was comfortable with video meetings, if the mentee was comfortable too, we'd both save a lot of time and trouble trying to schedule ourselves at coffee shops, find parking, and all the rest of it. This proved true, although on one occasion I was at a vaccine clinic right up until our meeting time, and with all the protocols in place, I literally couldn't find anywhere to sit down indoors and make the call. After fumbling around with my phone in a stairwell, Selina assured me that rescheduling was just fine. Good thinking.
It's been a strange time for everyone, but that experience really got me thinking of what it has been like for students like Selina and her peers. She switched from Queen's to Carleton in 2020, so a huge percentage of her learning has been with screen time only. Obviously there's a lot students miss out on when they do online learning, but they aren't going to graduate into a world of 9-5 cubicles anyway, so we also talked about some of the benefits of how effectively she has managed the situation, including completing group projects with other students. This type of remote collaboration is exactly what is happening in most workplaces right now.
Probably my best contribution was coming up with the idea that Selina should do a Core Gift interview with my colleague Alex Darling. I was going to do the interview myself, but I felt like I had already come to some conclusions about what Selina is all about, and I'd subconsciously rig the exercise. Plus, I love introducing students to colleagues, and in addition to coming up with a Core Gift statement (see below) that she's really excited about, Selina got to learn about the work that Alex does at LiveWorkPlay – a job that has continued to evolve over the years with Alex herself leading many of the changes.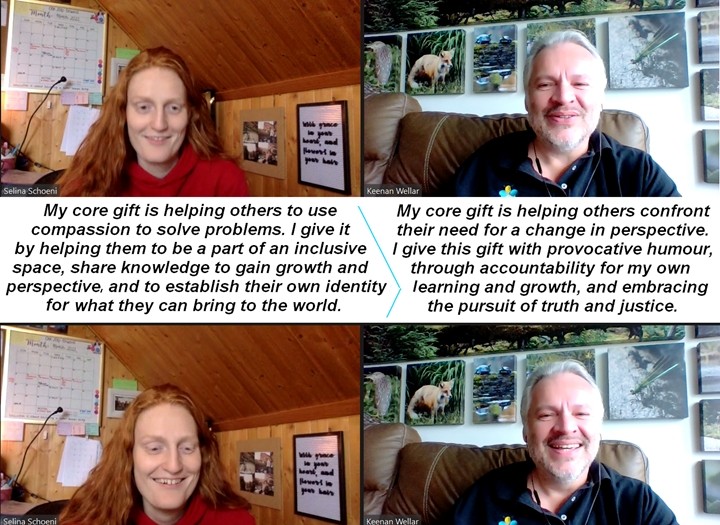 I didn't share my own core gift until after Selina had identified her own. Isn't it interesting that we both ended up with growth and perspective in our statements?
That is something that Selina and I talked a fair bit about: there's been shift in the labour market that has impacted all sectors, but perhaps most importantly the nonprofit community. The opportunity for younger workers to have a leaderful impact is much stronger now. With a bit of looking around, there are employers out there who genuinely want this from their new staff. It's something to be excited about amidst a lot of other challenging circumstances for young workers trying to get a career off the ground. It's easy enough to say that there are things more important than salary and benefits (and it's true) but depending on the labour market, it's not always easy or realistic to prioritize values. This is not one of those times – there's a lot of opportunities out there, and it is well worth digging deep to find out how you can make an impact beyond the fair exchange of cash for labour.
Salaries in the nonprofit sector are still being suppressed, but the post-pandemic world offers an opportunity to deliver a change for the better. We really need to defeat the care penalty (underpaying workers who provide care to others as their job) and the current generation entering the workforce is going to take up that cause and help lead that charge. I hope somewhere in Selina's future (one more year to go for her Sociology with a Minor in Disability Studies) she'll be a part of that!
Selina, I know you are finishing up your assignments and exams as I publish this, so we'll have to have a formal debrief before you head off for summer employment, but let me take this opportunity to wish you all the best in your final year and in your career to follow.